Your browser is out of date and will not be compatible with our website.
Please download one of the following browsers to be able to easily view our website.
Our retail stores in England & Wales are now open
Summer is upon us, and we can't wait to see you back in store to help you plan for warmer weather and good times ahead. From sunny beach days and country walks to a well overdue night out with friends, whatever summer may bring, rest assured that you can shop all your essentials safely at Clarks.
Here's what to expect when you arrive
Please wear a face covering
To adhere to government guidelines, we ask that customers wear a face covering at all times.
Social Distancing
Please keep a safe distance. Look out for markers on the floor to guide you.
You may be asked to queue
In compliance with government guidelines, we'll be restricting the number of people allowed in each store at any one time.
Cleaning & Disinfection
For your safety, we'll be cleaning our stores more frequently.
Our Current Service Options
Kids Measure & Fit Check
Save time and beat the queues. Book a kids fitting at your nearest store and one of our expertly trained fitters can ensure you get the perfect fit.
Quiet Hours
Our stores are quietest at the beginning and end of each day.
Shop Online
If you can't make it to one of our stores, why not shop online.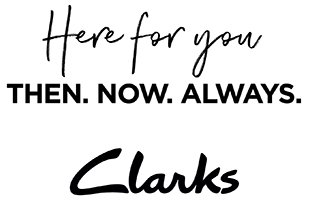 Shoemakers Since 1825
Our story began almost 200 years ago when Cyrus and James Clark made a slipper from sheepskin off-cuts. At the time it was ground-breaking; a combination of invention and craftsmanship that's remained at the heart of what we do.
And whilst now, as always, every pair of our shoes begins with a last carved by hand from a single block of hornbeam, advanced construction techniques, technologies and contemporary materials help us deliver perfection tailor-made for the modern world.