Home Delivery
Track an Order
Services
Standard Delivery
Within 3 - 4 working days
Deliveries made Mon - Sat 8am - 8pm
(Excluding Bank Holidays)

Free

on orders over

£60

£3.95

on orders under

£60
DPD Next Day Delivery
Place order before 7pm
Deliveries made Mon - Sun (8am - 6.30pm)
(Excluding Bank Holidays)

£6.95

on all orders
Deliveries to Outlying areas (e.g. Highlands) and Northern Ireland will take 2-3 days
Express Delivery within
2

days
Deliveries made Mon - Sat (8am - 8pm)
(Excluding Bank Holidays)
(Not available in Northern Ireland)

£5.95
Tracking your order
To track your order you'll need your Order Number and the Delivery or Billing postcode.
Go to the Track Order page
Enter your order number and postcode and select 'Track my order'
On the Order Status page you'll see all of the information about your order and the status it's in
If your order has been dispatched, you'll see an option to 'Track Package' which will show you the courier tracking information
We'll also send you the courier tracking link in an email once your item is dispatched from our warehouse.
Please note that some Home Delivery orders are sent in multiple packages. If this applies to your order, you will be able to see this on the Order Status page, and also find the tracking for each package.
For more help please contact our Customer Care team.
Delivery Communication
After placing your order, the confirmation screen and confirmation email will state your estimated delivery date. We'll also email you when your order is dispatched, which will include a carrier tracking link.
Orders placed after 7pm
Next Day Delivery orders placed after 7pm will be processed the next day, so expect your order 1 - 2 days from the day after you placed your order.
Next Day Delivery examples
An order placed at 6pm Monday with Next Day Delivery selected:
The order is processed on Monday, therefore estimated delivery is Tuesday.

An order placed at 7.30pm Monday with Next Day Delivery selected:
The order is processed on Tuesday, therefore estimated delivery is Wednesday.
Orders under
£60
Standard Delivery is £3.95 for orders valued under £60. Next Day Delivery is £5.95 regardless of the order value.
Some promo codes may take your order value under £60, at which point the £3.95 Standard Delivery charge will apply.
See our Terms & Conditions for more information.
Delivery instructions
If you think you might not be in to receive your delivery, you can leave instructions for the courier to leave it in a specific place or with a neighbour. Enter delivery instructions in the checkout before placing your order.
Otherwise, the parcel will be left in a secure place and the courier will post a card through your door telling you where your parcel has been left. If there's no suitable secure place to leave your parcel it will be sent back to the sorting office and we'll try again the next day. The courier will make three attempts to deliver your parcel but if they are unsuccessful it will be sent back to our warehouse and your order will be refunded.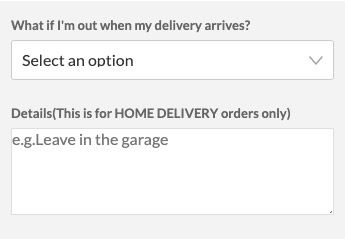 Product restrictions
In order to give you access to the widest range of shoes, we sometimes sell items online that are no longer stocked in our warehouse.
These items are sent directly to you from one of our Clarks stores and therefore cannot be offered for Next Day Delivery.
Other similar topics