Your browser is out of date and will not be compatible with our website.
Please download one of the following browsers to be able to easily view our website.
What to Wear to a Winter Wedding
There's something incredibly romantic about a winter wedding. The crisp weather, rich colour schemes and twinkling lights make for a magical atmosphere that is wholly unique to this time of year. But what should you wear to a winter wedding?
Fear not, you don't have to sacrifice style for warmth. Think jewel tones, sumptuous fabrics and glamourous layers. Whether you're the mother of the bride or an evening guest, read on for winter wedding guest outfit ideas, including tips for the best winter wedding shoes to complete your look.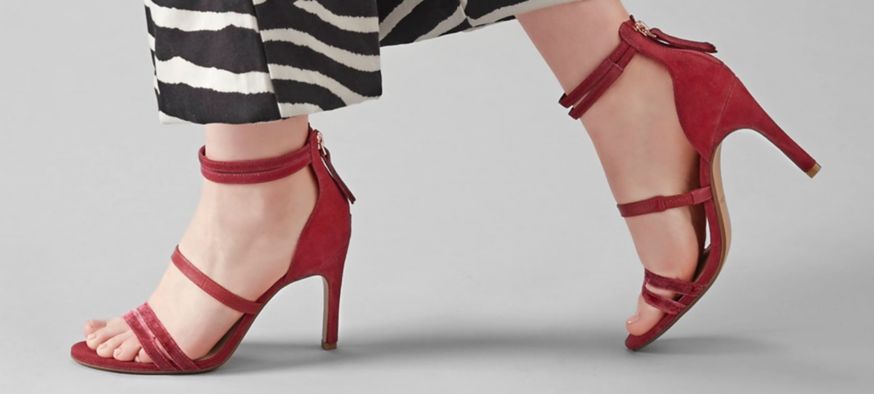 Winter wedding guest outfit ideas
Stay warm with long sleeves
Whether it's a long-sleeve dress, jumpsuit or blouse, sleeves are your friend come wintertime, and may save you from having to wear a coat in the chilly church. Choose from tight-fitting sleeves, bell sleeves, flouncy silhouettes or batwing styles, and enjoy the feeling of balancing style and warmth.
Jazz it up with a jumpsuit
Summer tends to be all about dresses, but winter weddings offer the chance to try something a little different. Treat yourself to extra warmth with an elegant jumpsuit, and choose from block colours, bold patterns and flattering shapes.
Make a statement in a suit
No longer the preserve of men, a suit is a sleek and stylish option for all genders. Keep it classic in neutral tones, embrace a bold hue or stand out in a metallic finish. The trouser and blazer combo will keep you warmer than a dress or skirt, and you can have fun accessorising with a contrasting blouse underneath.
Feel festive in velvet
Winter calls for warm and luxurious fabrics, and nothing meets the criteria quite like velvet. Plush, soft and sophisticated, a velvet dress, blazer or pair of velvet trousers will ensure you look every bit the part at a winter wedding.
Embrace rich, wintery tones
While pastels and pale shades rule at summer weddings, winter weddings call for richer hues. Jewel tones especially echo the traditional colours associated with winter, so consider a winter wedding guest outfit in shades of midnight blue, deep green or berry red and embrace the festive feeling.
Layer up
Chances are you'll be moving between locations on the day of the wedding, so prepare for fluctuations in temperature with the help of layers. Capes, pea coats and trench coats are chic and stylish options for wrapping up on the move. If you know you'll be spending a lot of time outdoors, consider a statement coat that's as eye-catching as the outfit underneath.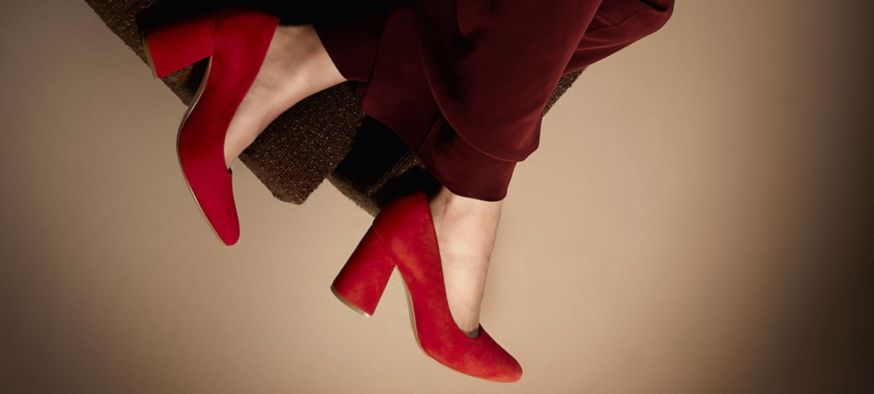 The best shoes to wear to a winter wedding
No winter wedding outfit is complete without the perfect pair of shoes. Whether you prefer heels or flats, there are plenty of styles to choose from.
Closed-toe heels
No one should get cold feet on a wedding day, so keep your toes toasty in a closed-toe heel. Try a simple silhouette and a mid-height heel that'll take you from day to night, like the Laina 55, or go for a slingback style with a pointed toe like the Laina 55 Sling for added elegance.
Flat shoes
If you're more comfortable in flats, then by all means don't feel pressured to wear heels, especially if you know you'll be on your feet all day. Wedding guest outfits featuring trousers – especially cropped styles – lend themselves particularly well to flat shoes. Go for a pump like our Grace Piper or a mule like Pure Tone, and add a touch of glamour with a metallic finish. All eyes will be on you, and not just because you're the last one on the dancefloor.
Suede shoes
Winter is all about plush materials, and suede makes for a luxury finish. From strappy heeled styles like the Curtain Strap to dainty flats like the Laina15 Sling, there are suede shoes to complement any wedding guest outfit.
Boots
Boots aren't usually associated with wedding outfits, however a pair of smart, knee-high heels like the Laina 85 Up or the Pure Caddy can look highly sophisticated under a long dress or wide-legged trousers. Not only that, they'll keep you extra warm on the coldest of winter days.
Explore our full collection of wedding shoes or read more about choosing the perfect party shoes.