Your browser is out of date and will not be compatible with our website.
Please download one of the following browsers to be able to easily view our website.
Shoe dilemmas answered: How to pair shoes with your outfit
Putting an outfit together takes time and care, and the shoes you wear play a big role in tying your look together. But it isn't always easy to know the best shoes to wear with different outfits.
With this in mind, we've looked at the most searched-for questions around shoe and outfit pairings and put together this useful guide to solve all of your shoe dilemmas.
What shoes to wear with a jumpsuit
Pair a casual jumpsuit with trainers for a casual streetwear look. In cooler or wet weather, a pair of ankle boots works well with a jumpsuit, or in summer team your causal jumpsuit with sandals for a laid-back beachy look.
Formal jumpsuits and heels are the perfect match, as adding height will help to elongate your figure and create a flattering silhouette. High heels work particularly well, but mid-height heels work wonderfully too. Depending on the style of the jumpsuit and the occasion, try a pair of classic heeled pumps, strappy heels or a wedge sandal in summer.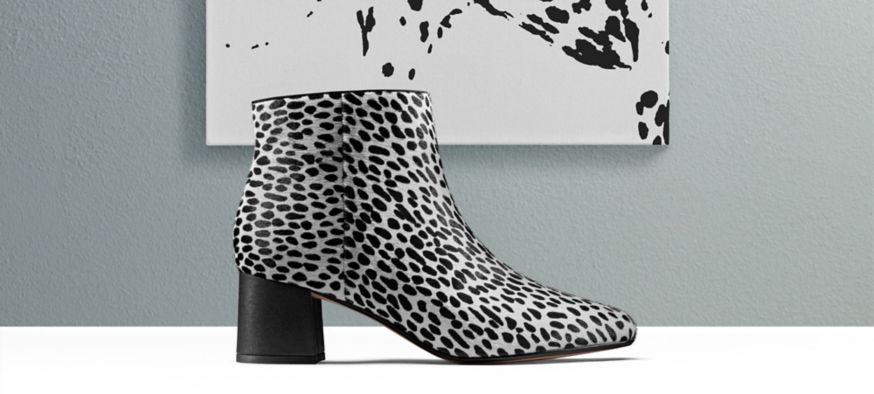 What shoes to wear with skinny jeans
Thanks to their streamlined silhouette, skinny jeans lend themselves best to sleek footwear options, so it's best to avoid anything too bulky. Aside from that, there are really no rules when it comes to styling shoes with your skinnies.
In the daytime you have a huge choice of flats, from trainers and sandals to loafers and ballet pumps. Dress up your outfit as you transition into the evening with a pair of strappy heeled sandals or kitten heels.
For winter styling, ankle boots look great with skinny jeans - tuck your jeans into them or wear a pair that come to just above the top of your ankle boots. Knee-high boots work well too and will add a touch of glamour to your outfit.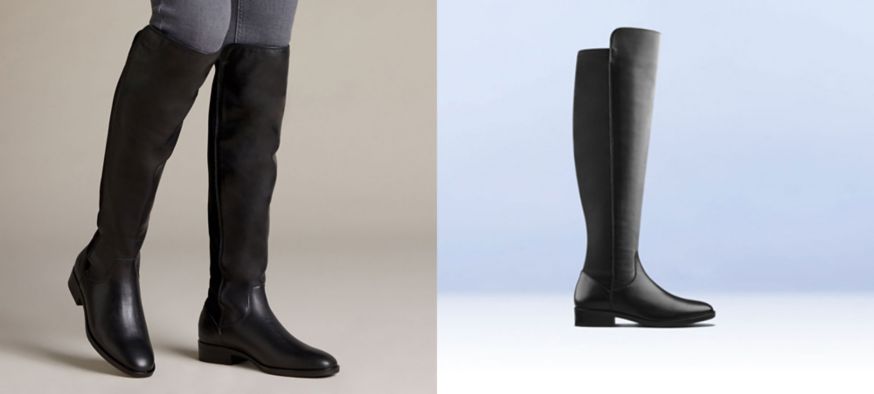 What shoes to wear with culottes
Culottes are more versatile than you might think and can be worn with a wide range of footwear styles, from casual trainers to sophisticated heels.
If you prefer wearing flats, then team your culottes with trainers for a casual look or loafers for a more formal one. In winter, ankle boots are a practical yet stylish option.
Shoes with heels will help to lengthen your legs when you're wearing culottes, so if you do wear heels then try a pair of heeled pumps for work or slingbacks for a special occasion. Heeled knee-high boots under your culottes create a chic (and warm) winter look.
What colour shoes to wear with a red dress
The classic pairing with a red dress is black shoes, but your options don't end there. Try white shoes for a retro-inspired look or go metallic in silver or gold.
You could also wear red shoes in the same shade as your dress for coherence, or a skin-tone shoe to draw attention to the dress and elongate your legs.
What shoes to wear with wide-leg trousers
Wide-leg trousers need a shoe that works with their flowing shape - ideally something that adds height. Heels naturally work well, especially pairs with a pointed toe that will peek out from under the wide-leg silhouette.
A statement pair of heeled boots will have the same effect: while the entire shoe won't be on display, the front of the shoe will peek through and catch the eye of passers-by as you walk. Try a patterned pair or a style in a contrasting colour to your trousers.
If you prefer to wear a flatter shoe, chunky trainers or platform pumps are a great way to dress down your outfit while still adding height.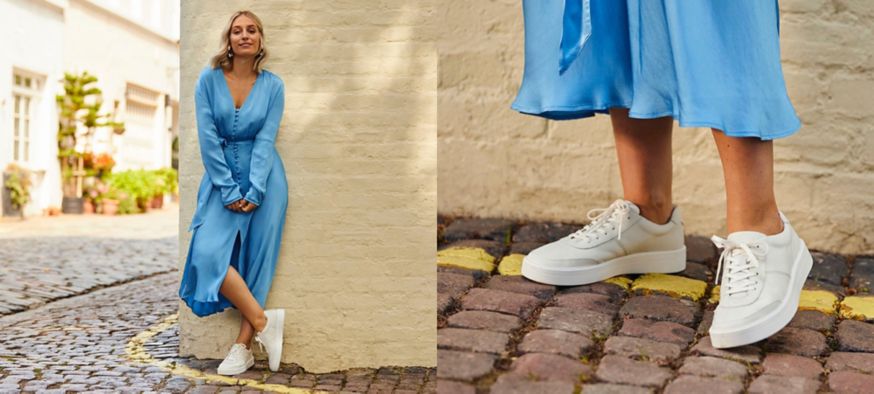 What shoes to wear with a midi dress
The shoes you pair with a midi dress can have a big impact on the overall look of your outfit. Midi dresses and skirts are generally pretty and feminine in nature, so you can choose to emphasise that or contrast it.
Strappy sandals and mules will add elegance in warmer months, while ankle boots and knee-high boots are a sophisticated alternative during winter.
If you like the sound of creating contrast, add edge to your outfit by pairing your midi with chunky trainers or utility boots.
Explore our full collection of women's shoes and find the perfect pair to complete your outfit.