Your browser is out of date and will not be compatible with our website.
Please download one of the following browsers to be able to easily view our website.
How to Choose the Best Kids' Shoes for Flat Feet
Flat feet, otherwise known as fallen arches, occur when the foot's arches don't develop during childhood, leaving the feet straight, without a noticeable arch. Having flat feet tends to be quite painless for most (phew!), but possible signs and symptoms of flat feet may include painful or achy feet that get tired easily, swelling in the feet, and back and leg pain.
While flat feet are uncommon in adults, the majority of children between one and five years old will have feet that look flat (and very cute), as they haven't yet developed the arch in their feet. Having flat feet is part of normal development for a child, and once they get past the age of six, their feet should begin to get more arched.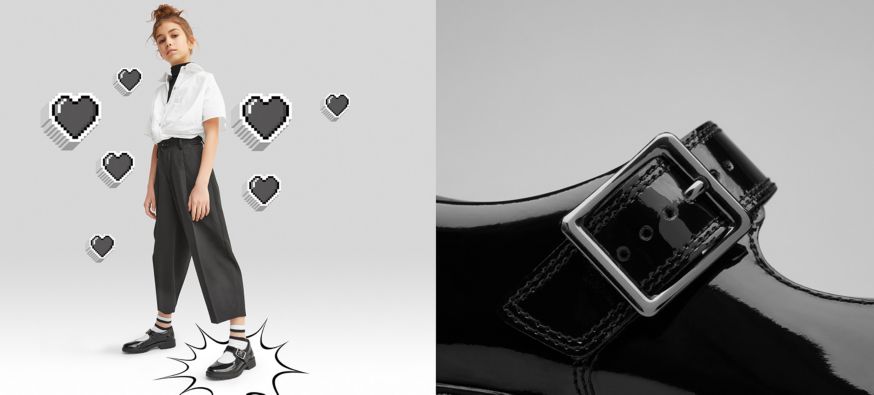 When can you tell if your child has flat feet?
Since flat feet are so common in younger children, it's absolutely nothing to worry about, and having flat feet now doesn't mean your child's feet will be flat as an adult. In fact, only around five percent of children over six years old will go on to have flat feet in adulthood!
If your little one is under six, then it's likely that the shoes they already own have been designed to support flat feet. But children older than six who still have flat feet will benefit from wearing the right shoes to keep their feet as comfortable and supported as possible. Find out more useful facts about your children's feet to put your mind at ease.
Best children's shoes for flat feet
Since our feet are meant to be arched, shoes for flat feet will often come with built-in arch support or insoles to shape the foot into an arch. Children with flat feet are happiest with shoes that are both comfortable and supportive, and at Clarks, our decades of experience in designing shoes will give you full peace of mind that your children's feet are being looked after throughout the day.
We also offer in-store fittings, where our friendly experts are on hand to help you find the perfect shoes for your kids and answer any questions you might have.
Trainers
Kids love getting active and letting their imaginations run wild, so it's important that they have a good pair of supportive trainers as they burn off their energy. Our CICA kids' trainers are built specifically for small feet that are constantly on the move. Whether your little one is a breakdancer or an aspiring footballer, CICA trainers provide both cushioning and support for confidence and total comfort.
School Shoes
School is a big part of your little one's life, and their shoes should support them as they grow and learn. Our collection of kids' school shoes come in a range of half sizes and width fittings to ensure maximum comfort, and with classic and modern designs to choose from, there's a perfect pair of shoes for everyone.
Best shoes for toddlers with flat feet
Toddlers don't have a visible arch in their feet because of the extra soft tissue that protects their bones as they grow. So since just about all toddlers have flat feet, most good quality toddler shoes are designed to comfortably fit little feet as they progress from taking their first wobbly steps to becoming the next Usain Bolt!
Our toddler shoes have been specially designed for children aged 0-4 and are crafted using the softest premium materials which will support and nurture growing feet. With a range of different colours and styles to choose from, our toddler shoes are perfect for those pitter-pattering feet.
Flat feet are nothing to worry about in young children, and with the right shoes, they're free to play, learn and explore as they please. To find your perfect pair, take a look at our boys' footwear or girls' footwear.