Your browser is out of date and will not be compatible with our website.
Please download one of the following browsers to be able to easily view our website.
How to Wear Kitten Heels for Every Occasion
For a while, the kitten heel suffered a bad reputation in the fashion community. But the kitten heel has well and truly experienced a resurgence and are back in style, thanks largely to how comfortable, versatile and easy-to-wear they are.
What are kitten heels?
Kitten heels have short and slender tapered heels, usually between 1.5 and 2 inches tall. They were introduced into mainstream culture in the late 1950s, and the name came about because the style was considered a training heel for "kittens" - young teenage girls who weren't yet used to walking in high shoes. By the early 1960s kitten heels had become fashionable for older teenagers, and eventually they started to be worn by women of all ages.
Nowadays they are available in a wide range of styles, from slingback and mule to court and even winter boots, so you'll have no problem finding a kitten heel to suit your personal style. The short heel makes them a practical and comfortable option for all-day wear, and their versatility means you can wear them from day to night, summer to winter and to casual or formal events.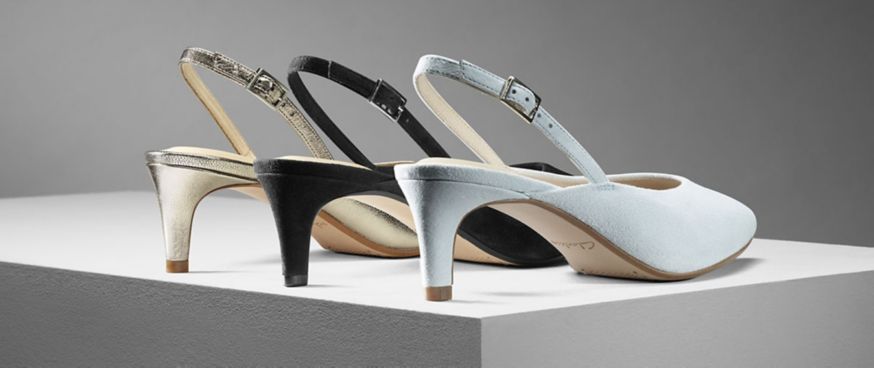 How to wear kitten heels in the summer
When summer arrives, make the most of warm weather with an open-toed or slingback kitten heel. They're an elegant option to wear with a summer dress, and while they go with any length hem, they work especially well with midi-length dresses and skirts.
For a particularly summery look, pair a dress or skirt with a pair of Laina 55 Sling in sky blue suede. This style is also available in black suede or a metallic stone-coloured leather finish for a more formal evening look.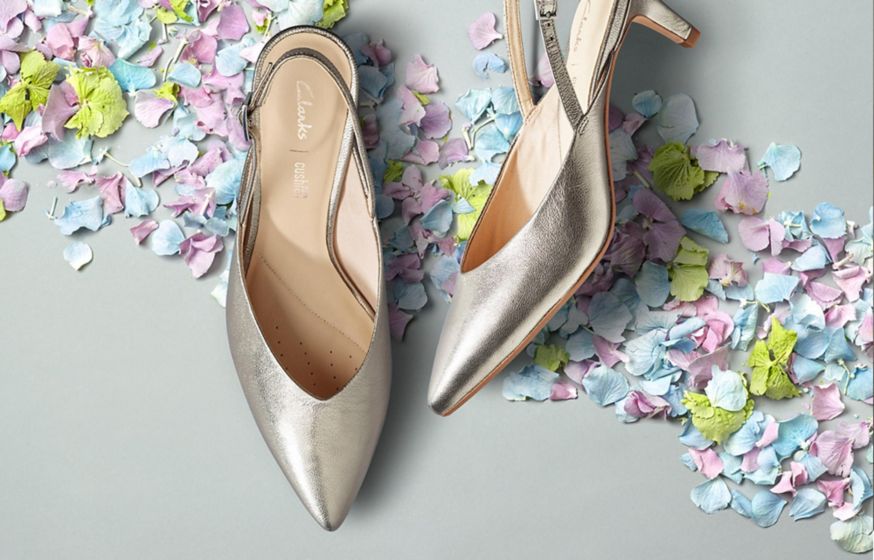 Kitten heels also work well with jeans in summer, especially if you're looking to transition your outfit from casual to dressy. Heeled sandals work best with a bit of ankle on show, so opt for cropped jeans or roll your jeans up slightly, then add a slingback or a mule such as the Laina 55 Mule in white, black or praline leather.
Try contrasting white jeans with a black pair of kitten heels or black jeans with a white pair for a striking and sophisticated take on monochrome.
How to wear kitten heels in the winter
For the past couple of winters, kitten heel ankle boots have been all the rage from the catwalk to the high street. Wear them with jeans, wide-legged trousers or even with tights and a dress or skirt.
A classic black suede ankle boot with a kitten heel, like the Laina 55 Boot, will complement a range of outfits, adding a touch of subtle sophistication. Try combining them with an all-black outfit for a strikingly chic look or wear them with blue jeans and a jumper for stylish daytime attire.
If you want your shoes to be the focal point of your outfit, then try the Laina 55 Boot in grey snake or white leather. Both styles will add interest and excitement to your outfit, especially when contrasted with other colours and prints.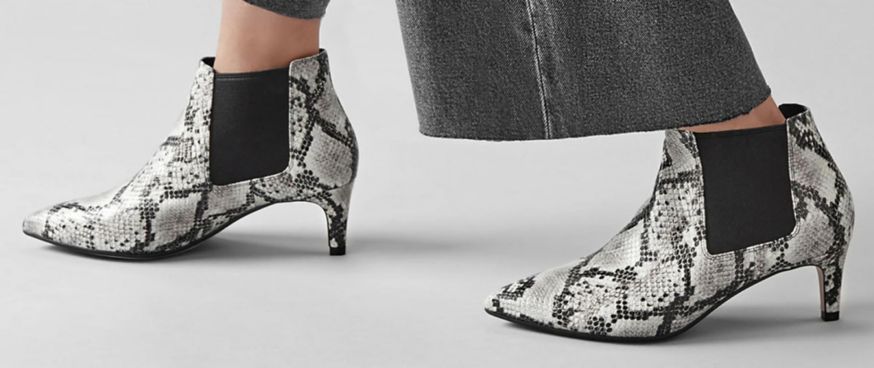 Kitten heels for work
If you generally opt for a flat shoe at work but feel like you'd like a change from your usual loafers or pumps, then a kitten heel could be the alternative you're looking for. Their low heel means that you'll be comfortable wearing them for an entire day and even into the evening.
A classic court-style kitten heel is the most appropriate for a work setting as this style provides more coverage than a mule or slingback. Opt for a black leather or suede pair if your workplace dress code is on the more formal side, or go bold in a fuchsia or snake print pair for a look that stands out.
Whether you're a kitten heel convert or want to see what other styles are available, explore our full range of low heels.