Your browser is out of date and will not be compatible with our website.
Please download one of the following browsers to be able to easily view our website.
How to Clean Kids' School Shoes
A good pair of shoes gives kids the perfect foundation to grow, learn, explore and play, and as they spend a great deal of their childhood at school, their school shoes will become some of their most-worn pairs.
A child's life is a whirlwind of adventure, imagination and learning, and with so much going on, pretty much every parent will agree that it's virtually impossible to keep kids' school shoes clean. From the walk to school and games in the playground to arts and crafts lessons and even dinner time, there are so many contributing factors to the wear and tear of school shoes.
You simply can't avoid dirty shoes—but when the inevitable happens, it helps to be prepared with the right tools and tactics to make life a little easier. Take a look at our tips for cleaning school shoes.
How do you look after school shoes?
We all know what little ones are like, but encouraging your child to look after their school shoes will do them the world of good. As well as maximising the life of your kid's shoes, keeping them clean and fresh will also help to maintain healthy feet. Damp and warm shoes can breed smelly bacteria—and no one wants stinky feet!
Kids will be kids, but there are some things you can do to look after their school shoes and help them last for longer. Encourage your kids to remove their shoes straight after they've got home from school so that they can be aired out for as long as possible before their next use, and stuff wet shoes with newspaper overnight to draw out the moisture. Laces can be fiddly for little hands, so if your little one is trying out laces for the first time, make sure they get to grips with tying their own knots to avoid any trailing laces becoming frayed or dirty.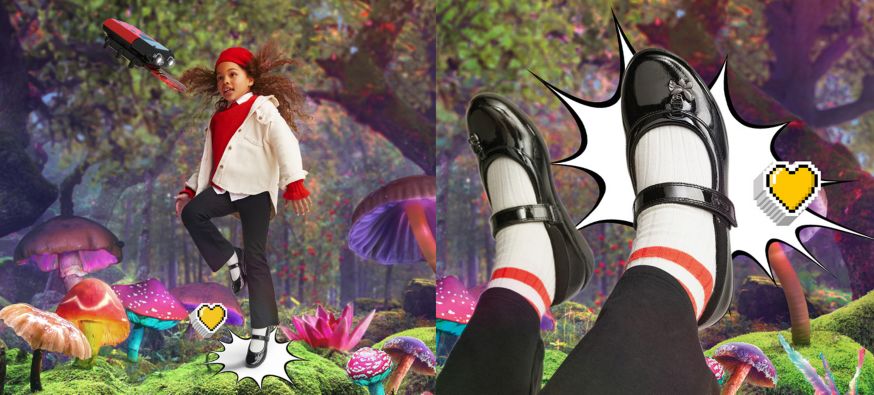 How to clean school shoes
Black is the most common colour for school shoes, and below you can find our top tips and techniques for cleaning black school shoes:
Suede school shoes
Suede is a pretty delicate material, but stains are easy enough to remove if you have the right tools for the job. Begin by using a shoe brush like our Multi Brush to gently remove any dirt, brushing in the same direction as the grain. For more stubborn stains, use the rubber attachment on the Multi Brush or a rubber from your child's pencil case to rub a little more vigorously.
Leather school shoes
For leather school shoes, use a cloth slightly dampened with warm water to remove any excess dirt. You can also use an old toothbrush to scrub any more stubborn stains. Leave the shoes to air dry, before finishing with some quality leather balm to prevent the shoes from future damage or cracking.
How to polish school shoes
For a 'good-as-new' shine, leather shoes can be polished once they're dry and dirt-free. For a fast and easy polish, wipe our Quick Shine Sponge lightly over the surface of the shoe until your shoes look shiny and spotless.
How to clean Velcro
Children's shoes often come with Velcro fastenings to make it easier for little hands to take shoes on and off. But just like the rest of the shoe, riptape is just as prone to getting dirty. Since riptape is deliberately sticky, hair, fluff and dust can gather in it over time – what a pain!
Luckily, you can easily remove this with an old toothbrush, tweezers or a fine-toothed comb. Simply brush through the tape with your equipment of choice until you've collected up all the debris from within. Riptape stays cleanest when it's correctly fastened, so try to make sure the top strap is always nicely lined up with the bottom before closing.
Cleaning school shoes couldn't be easier with our shoe care range. For children who have just started at school or are in need of a new pair, take a look at our collection of boys' and girls' school shoes.