Your browser is out of date and will not be compatible with our website.
Please download one of the following browsers to be able to easily view our website.
A Guide to Buying Kids' Wellies
An icon of British culture for centuries, wellies have become a staple footwear for everyone in the UK, especially children. What better boots are there for leaf crunching and puddle jumping after all? Designed to be an all-purpose boot, made to suit almost any terrain, kids' wellies are ideal for those uncertain British seasons and will keep your children's feet warm and dry year-round.
Read on for a helpful guide on shopping for kids' wellies, with advice on how wellies should fit, whether they're good for snow and how to clean them.

What are wellies?
Named after the Duke of Wellington, Wellington boots are a waterproof, rubber boot that were once a symbol of British aristocracy until, due to their hardiness in wet and boggy terrain, their usefulness transcended the ranks of wealth and became a staple for soldiers fighting unpredictable weather in the First World War. From there, the usefulness and versatility of the humble rubber boot was cemented in British society as an all-purpose boot, perfect for any conditions.
Today, wellies are seen in everyday society and are worn in a range of situations, from mucking out stables to dancing at festivals, and they're a staple in any dog-owner's wardrobe. And for parents of young children, they're an absolute lifesaver.
How should wellies fit?
Despite rumours to the contrary, kids' wellies should be bought in the correct size, not a size bigger, or a size to grow into. Even with thick welly socks, wearing wellies that are too big can cause feet to move about unnecessarily and cause discomfort. Kids' wellies should be snug enough for the foot not to move about, to keep growing feet as comfy as possible. Generally, wellies should not stretch with wear, as the rubber fabric is designed to last.
Read more: How to Measure Kids' Feet
Read more: The Best School Shoes for Boys and Girls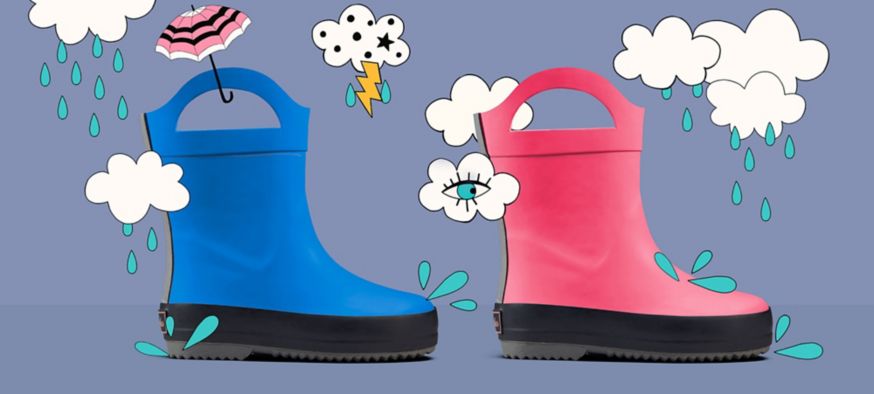 Are wellies good for snow?
Wellies do make a great winter boot, as once paired with wellie socks (which are thicker than the average pair of socks) they are one of the warmest and driest solutions for your child's feet. When snow is more icy than sloshy, it's worth being careful as there could be some trouble gaining stable traction. Ice is the natural enemy of most shoes, and unless you have ice grips (or a blade!) attached, not even the humble welly will be totally good on ice.
That being said, if you're wanting a warm, dry boot for your child to go stomping through snow in, to wear on trips to build a snowman, or to race to the top of the slope to slide back down again, then the wellington boot is the ideal choice.
How to clean wellies
When it comes to cleaning wellies, it's a fairly straight forward process. Avoid putting wellies in the washing machine, as the heavy rubber may damage the inside of your machine as well as the rubber of the boot. Instead, using a cloth soaked in warm soapy water will do the trick. To clean the soles, use an old toothbrush or soft-bristled brush to get between the patterned sole. If the mud or soil is dried, then a few hard knocks against a wall or against the other boot should get most of the excess dirt off of them before you begin to clean them more thoroughly.
If it's the inside of the boot that's your problem area, then a rag soaked in warm soapy water will be your saviour here too. If soap doesn't quite do the job, then washing up liquid will get those stubborn stains and smells out. Afterwards, leave to air dry. This process can be accelerated by stuffing old newspaper or paper towels inside the boot, as this will help to draw out any excess moisture. Make sure the wellies are nice and dry before your child wears them again.
Whether you're looking for boys' wellies or girls' wellies, our collection will keep their little feet warm and dry no matter how many puddles they jump in or snowy fields they run through. Our kids' wellies offer everything a parent could want in their child's most active footwear, including comfort, durability and a range of fun, bright colours and patterns to choose from to satisfy even the fussiest of budding fashionistas.