Your browser is out of date and will not be compatible with our website.
Please download one of the following browsers to be able to easily view our website.
How to wear Chelsea boots
From knee highs to ankle grazers, wellingtons to western styles, there is no such thing as a bad boot. However, with its effortless adaptability and iconic status there may just be one that would claim the top spot if there was a 'best boots' chart. All hail the enduring appeal of the Chelsea boot.
What are Chelsea boots?
Chelsea boots are typically made from leather, with a rounded toe and a low heel. But it's their elastic side panel that distinguishes them from other types of ankle boot.
This beautiful, adaptable boot has a long and prestigious history. As with many of today's best-loved and longest-standing inventions, it was the visionary Victorians who first strode forth in this style. In fact, it was Queen Victoria's cobbler who created the boot, although they were initially called a Paddock Boot and were primarily worn by riders or while out walking.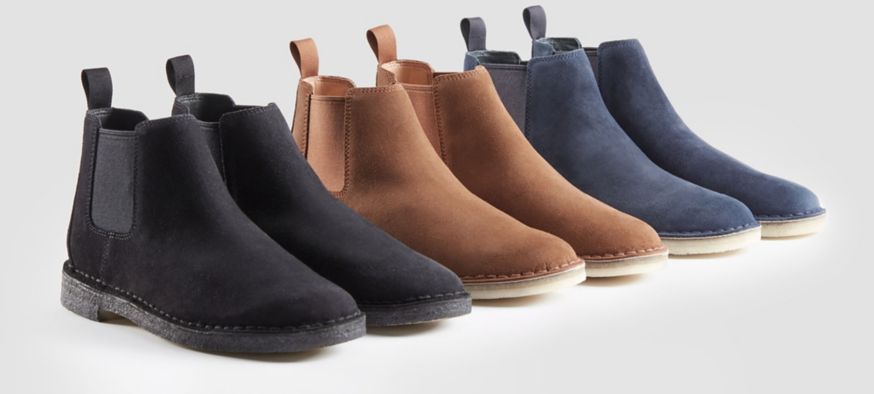 Why are they called "Chelsea" boots?
Their current title came about in the 1950s after they became a style staple for a band of avant-garde trailblazers named after the area of London they chose as their stomping ground. The notorious Chelsea Set included writers and artists as well as aristocrats and musicians, and they were the influencers of their day. Written about in newspapers and magazines, they led the UK's fashion renaissance and really kick started the Chelsea boot trend.
Revered by superstars everywhere, including The Beatles and Andy Warhol, the boot quickly became an icon - one that could be worn by anyone. For the slightly more daring, they replaced the brogue in the 1960s workplace, while for many they were really the only style to be seen in on a night out. Today the Chelsea boot is still seen as a footwear favourite for style connoisseurs and is celebrated by modern-day icons, from Kate Moss to Victoria Beckham.
The good news for us mere mortals is that you don't have to be a fashion icon to wear them.
Although a little slower to catch on, women's Chelsea boots are now as popular as men's Chelsea boots, and there are endless ways to wear them.
How to wear Chelsea boots for women
A beautiful pair of leather Chelsea boots, like the Taylor Shine, will look just as amazing with jeans as they do with a floaty floral skirt. And while you can pair Chelsea boots with most things, if you want to really nail the iconic look, you need to complete your outfit with a leather biker jacket. There are no age constraints here either, meaning this look is as easily pulled off by Helen Mirren as it is Alexa Chung.
If you feel black is too edgy for daytime, then a tan Chelsea boot in leather or suede is perfect for autumn or indeed, these last days of summer.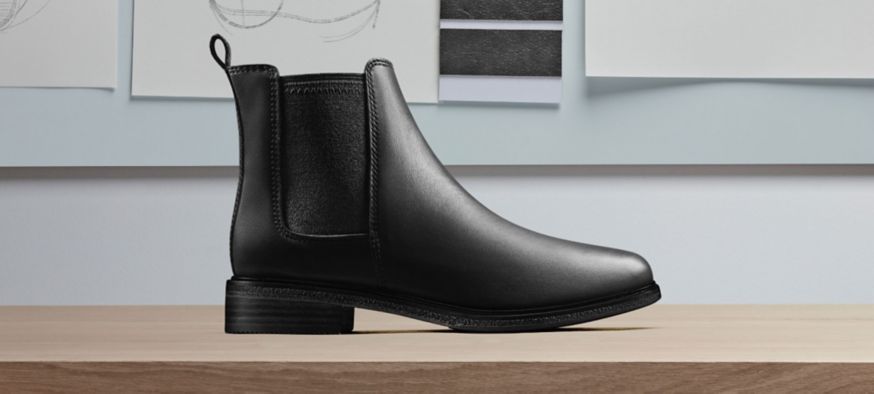 How to wear Chelsea boots for men
For men, well-crafted Chelsea boots will give you endless outfit possibilities. They are so adaptable that no wardrobe should ever be without a pair, whether you opt for suede brown like the Desert Chelsea, which will give you more of a country gent look, or black leather like the Oliver Top for the ultimate rockstar vibe.
Team them with a t-shirt and jeans for a dressed down look or smarten up by pairing them with chinos. Whatever you do though, be sure to keep your hemline above the top of the boot.
How to wear Chelsea boots with jeans
As we've just alluded to, the hemline of your jeans should always be kept above the top of the boot. This allows the signature elastic panel to be shown off.
When to wear Chelsea boots
Chelsea boots can be worn year-round. They work well in winter as your trusty go-to boot, but they also look great in summer worn with bare legs or with jeans and a t-shirt. Their versatility makes them the ultimate transitional footwear.
Can Chelsea boots be formal?
We've already praised the versatility of Chelsea boots when it comes to seasons, but they're versatility extends into the realms of formal and informal dressing too. A suit can be worn with a smart pair of leather Chelsea boots as an alternative to dress shoes, or with a suede pair for a dressed-down but dapper look.
Just remember, whatever style you choose, look after them well, because as with all the finest things in life, Chelsea boots age beautifully and should be treasured accordingly.
Looking for more boot inspiration? Check out our guide to the best winter boots.