Your browser is out of date and will not be compatible with our website.
Please download one of the following browsers to be able to easily view our website.
Best Walking Boots and Shoes
From the majestic mountains of northern Scotland all the way down to the rugged coastline of Devon and Cornwall, the UK is home to many diverse and breath-taking landscapes. With such a wealth of amazing places to explore, it's little wonder that when we get time away from work, more and more of us are choosing to pull on a pair of walking boots and reconnect with nature.
After nearly 200 years of creating some of the UK's best-loved footwear, it's safe to say we know a thing or two about walking boots and shoes, and our latest styles, made purposely for exploring the great outdoors, will take you on your weekend adventures in comfort and style.
From sturdy boots to lightweight shoes, our collection has styles for every situation.
Different types of walking shoes
There's a large variety of walking shoes and boots on offer, from lightweight styles through to chunky leather designs. Different styles are designed for different purposes and terrains, so it's worth considering what you're going to be using your walking boots for the most.
If you'll mostly be walking through forests and along tracks, a lightweight pair of fabric shoes or boots will do the job, whereas if you're planning to tackle tougher terrain then you'd be better off choosing a more solid pair of leather boots.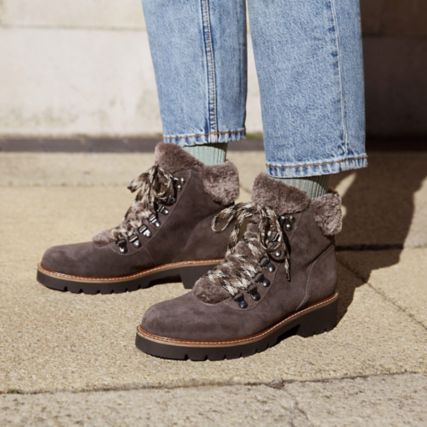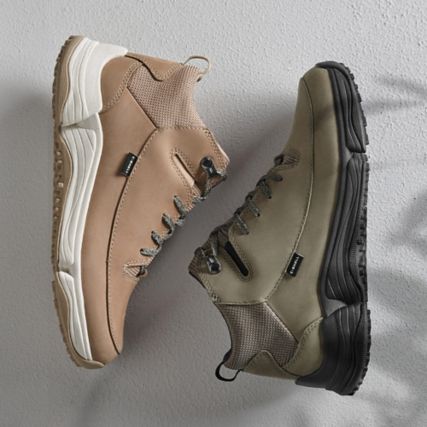 Best waterproof walking boots
When hiking through the seasons, you'll inevitably be faced with your fair share of wet weather. Thankfully, our collection of Gore-Tex walking boots mean you can leave any concerns over the constantly changing weather at home. The material's unique membrane is not only waterproof and windproof but also breathable, meaning you'll stay comfortable and dry on your walk.
Always striving to discover the latest in footwear innovation, our new C-Shell technology is also fully waterproof.
Best walking boots for men
Try our Ashcombe Mid GORE-TEX boots in black or dark brown leather for a lightweight and durable pair with an Ortholite® footbed that adds to the comfort underfoot.
For men's walking boots that prioritise both practicality and style, our Batcombe Alp GORE-TEX boots hit the mark.
Best walking shoes for men
Our Tri Path Walk shoes are made for the outdoors and are great for footpaths or off the beaten track. These men's walking shoes boast a durable yet flexible sole that enhances comfort and grip.
If your walking activities are mostly of the urban variety, our Triken Jump shoes are lightweight and comfortable and channel the athleisure trend.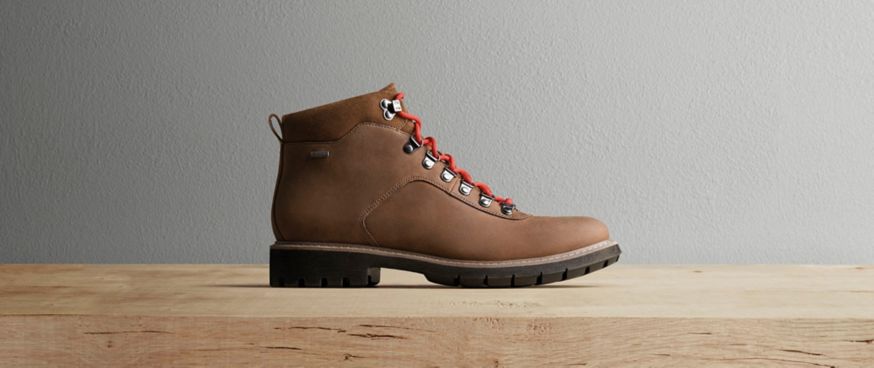 Best walking boots for women
Our Un Adorn Walk boots are crafted with our waterproof C-Shell technology. They're, lightweight with good grip and a leather sock for comfort underfoot.
For cold-weather conditions, our Ivery Trail boots use a combination of suede, leather and felt to keep feet warm, with cleated soles for added traction as you walk.
Best walking shoes for women
Our Tri Path Lo shoes are part of our Trigenic collection, which uses innovative technologies and targeted flex points that optimise the foot's natural movement.
For urban walking, our Step Allena Go shoes are breathable, lightweight and flexible, with cushioned layers underfoot for added comfort.
Walking shoes fit
A well-fitting pair of walking shoes or boots are an essential part of your outdoor adventure kit, as if they don't fit properly your feet and ankles won't be supported and before long you'll find yourself suffering from rubbing and blisters.
The best time to try on walking boots is in the afternoon, as your feet swell throughout the day, and the afternoon is when your feet are at their largest.
You're looking for a snug fit – not too tight and not too loose. Too tight and your feet and toes will be scrunched up; too loose and your feet will move around and your shoes will rub, resulting in blisters, chafing and general discomfort.
To check that you have the right fit, put the walking shoes or boots on, with the laces undone. Push your foot to the front and put your index finger down the back of the boot. It should fit snugly – if it can't fit then the shoes may be too small for you, or if there's space around your finger then they are likely too big.
It's important to try your boots on and wear them around the house before embarking on any longer walks. An hour at a time here and there will help you to recognise any potential discomfort. Try to wear them up and downstairs to mimic hill walking, and try wearing them with different socks to find the most comfortable pairing.
Explore our range of men's walking shoes and women's walking shoes to find your ideal hiking companion.