Your browser is out of date and will not be compatible with our website.
Please download one of the following browsers to be able to easily view our website.
Best Kept Secrets of the UK Countryside
There's no denying 2020 has been a year of change for all of us. From moving out of big cities to learning how to bake bread at home, adapting to the 'new normal' has seen millions of us make lifestyle changes, both big and small. But amongst all this change, we have had one constant: nature.
This year has brought us closer to the outdoors than ever. Whether it was a lunchtime burst of fresh air or an invigorating hike to clear out the cobwebs, nature has been a source of comfort during these strange times. As we continue to navigate the 'new normal', however, many of us are wanting to discover spaces that offer an escape from the crowds and a connection with nature. So, we've found them for you.
We've analysed the reviews of over 5,000 TripAdvisor attractions, spanning beaches, forests, parks and hiking trails to bring you the ultimate list of hidden gems in the UK. We've ranked outdoor destinations with the lowest number of reviews, but highest concentration of 5-star ratings in order to bring you the most secluded spots in the country.
So, grab your walking shoes and discover the best kept secrets of the UK countryside.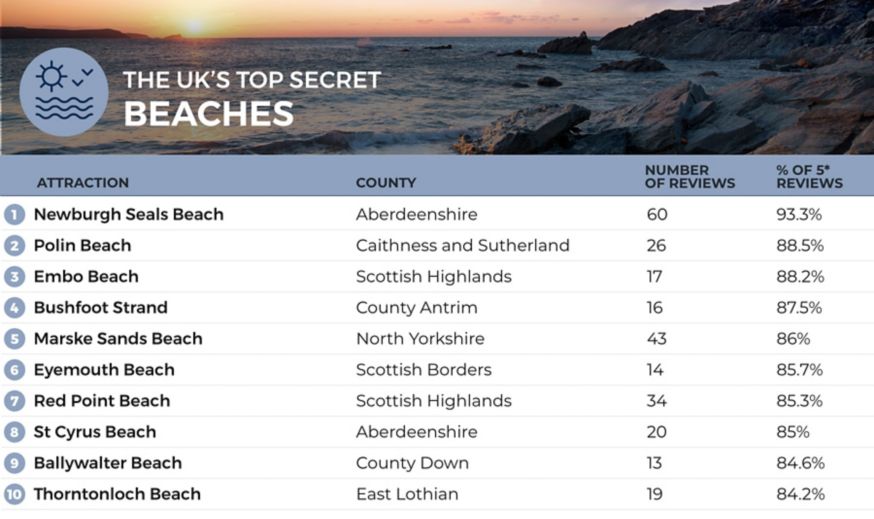 As beautiful in the winter as they are in the summer, our list of the best hidden beaches in the UK uncovered some true gems. With 7 of our top 10 beaches there, Scotland appears to be home to the most secluded beaches in the UK.
Coming in firmly at the top of the list, with 93% 5-star reviews, is the unique Newburgh Seals Beach. Home to a 400-strong colony of seals, this golden stretch of sandy beach is described as "beautiful with breathtaking views". Elsewhere in Scotland, Polin Beach in Caithness and Sunderland is a very worthy second place - with turquoise waters and soft white sand, this true hidden gem feels like "sitting on a beach somewhere in Mauritius" according to one reviewer.
There are plenty of hidden beaches to be discovered outside of Scotland, too. Our 4th most hidden beach, Bushfoot Strand in County Antrim, is described as "one of the most beautiful beaches in Ireland", while 5th place is taken by the "wild and wondrous" Marske Sands beach in North Yorkshire which is described as the perfect place to cleanse and invigorate your mind.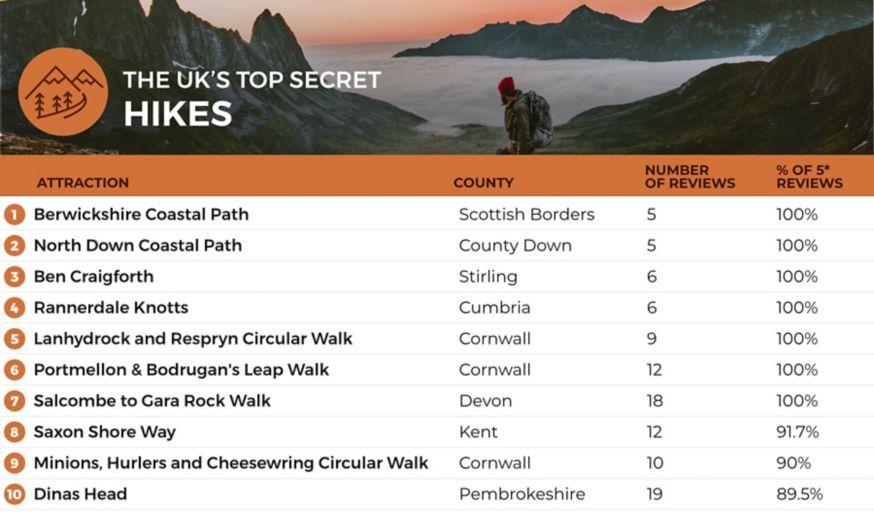 The next TripAdvisor category, Hiking Trails, had a smattering of locations across the UK, including the Borders and Stirling in Scotland, County Down in Northern Ireland, Pembrokeshire in Wales, and locations along the South West coast such as Cornwall and Devon.
Taking joint-first place is Berwickshire Coastal Path in the Scottish Borders and the North Down Coastal Path in County Down. Berwickshire Coastal Path is home to golden beaches, charming harbours and a sweeping coastline. At 8 miles long and an ascent of 500 metres, the hike has been described as "a stunning stretch of coastline for anyone who is a keen walker or fancies taking it up" by one reviewer.
Across the Irish sea, North Down Coastal Path has been called "outstandingly beautiful" and boasts crystal clear waters, unique rock formations and, if you're lucky, the occasional seal sighting. With only 5 reviews each and all of them 5-star, there's no surprise these two locations are hidden gems among the UK's hiking trails.
Scotland appeared again in joint second place, which ties the "out of this world" Ben Craigforth in Stirling and the picturesque Rannerdale Knotts in Cumbria. The most popular location for our hidden hikes, however, is Cornwall. Covering 5th, 6th and 9th place, the Cornish Riviera is home to hiking trails such as the beautiful Lanhydrock and Respryn Circular Walk, described as "a real opportunity to contemplate", as well as Minions, Hurlers and Cheesewring Circular Walk, which has been called an "outstanding gem of a walk" and finally Portmellon and Bodrugan's Leap Walk which boasts "simply the best view in the world".
Whether you're a keen walker or complete beginner, the right shoes are essential when it comes to exploring these trails. Check out our men's walking shoes and women's walking shoes to make sure you're getting off on the right foot.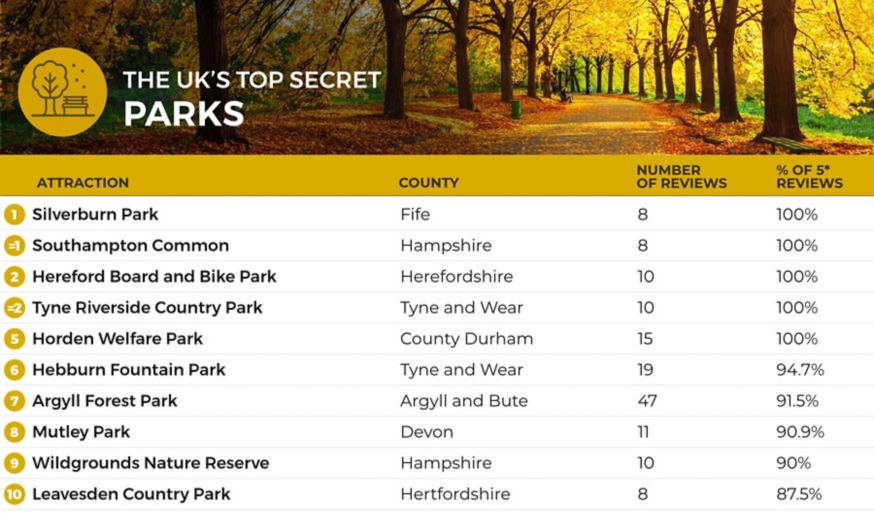 In another hotly contested category, our ranking of the most hidden parks in the UK also had a joint first and second place. Our winning parks are sprawled across the country, covering areas such as Fife and Argyll and Bute in Scotland, Durham and Tyne and Wear in the North of England, right down to Devon and Hampshire in the south.
Described as "a place of quiet enjoyment" as well as beautiful and tranquil, Silverburn Park in Fife is our joint-best park, alongside Southampton Common in Hampshire. The latter has been deemed "a remarkably peaceful place" given its central location, and has even determined where some locals have chosen to live. With only 8 reviews for each location, all of which being 5-star, these are our hidden gems among parks in the UK.
Also boasting 5-star reviews across the board are our two locations in joint-second - Hereford Board and Bike Park in Herefordshire and Tyne Riverside Country Park in Tyne and Wear. Set in the "idyllic Herefordshire countryside", Hereford Board and Bike Park is a true hidden gem of the West Midlands, surrounded by fields, lakes and rolling hills. Tyne Riverside Country Park is described as a wonderful country park, with wide paths and "breathtaking scenery", perfect for a family day out.
Lower down on the list but no less beautiful, Argyll Forest Park in Scotland takes 7th place. Encompassing around 720 square miles of some of the "finest scenery in Scotland", the beautiful nature park contrasts "rolling lowland landscapes in the south to high mountains in the north", with many lochs, forests and woodlands. Meanwhile, Hampshire's Wildgrounds Nature Reserve in 9th place offers a connection with wildlife: the 62-acre site allows visitors to wander through butterfly meadows, get close to badger setts, and watch roe deer and woodland foxes over reed beds.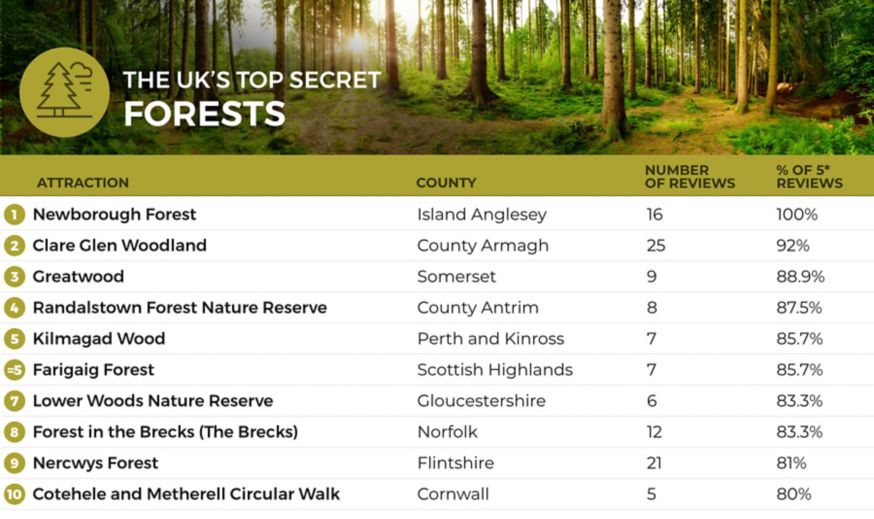 Featuring three forests in Northern Ireland, two in Wales, one in Scotland and two in both the South East and East Anglia, our top secret UK forests saw an even spread of green across the country.
In first place, Newborough Forest on Anglesey Island has it all - a sprawling forest that opens out onto grassy sand dunes and a beach that stretches as far as the eye can see. With only 16 reviews and all of them 5-star, it's not surprising this was crowned our best kept secret forest in the UK. In a worthy second place, Clare Glen Woodland in County Armagh is an idyllic woodland with the winding River Cusher trickling through it. Described as a location dotted with bluebells and wild garlic, this Northern Irish hidden gem has 92% 5-star reviews.
Moving further down the country, analysis of TripAdvisor's Forest category also uncovered some secluded nature reserves - perfect for those wanting to connect with wildlife. Described as a gem and "not easy to find", the Lower Woods Nature Reserve in Gloucestershire is home to muntjac and roe deer, who can often be seen in their natural habitat. The forest is also brimming with wildflowers, snowdrops, bluebells and wild orchids, and with only 6 reviews, we're not surprised this magical place made its way into our rankings.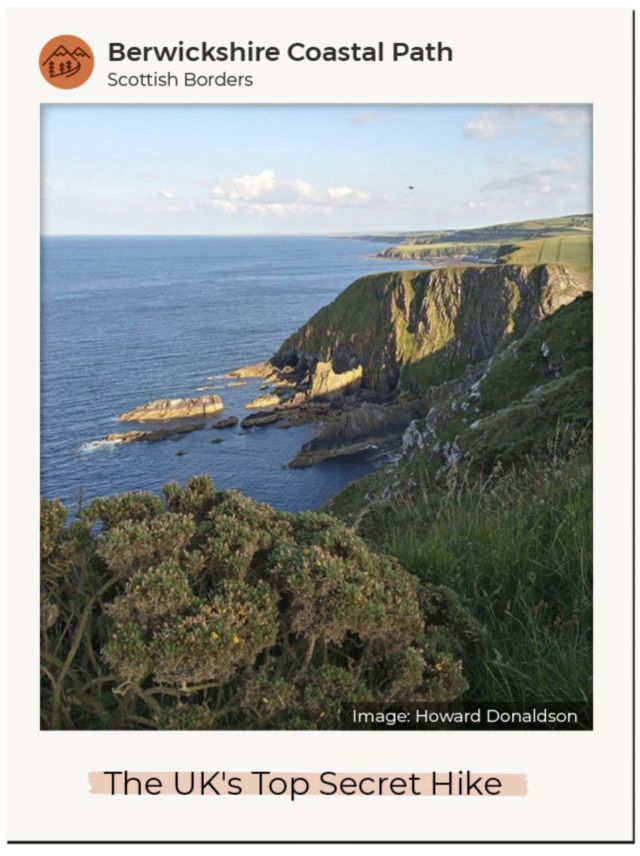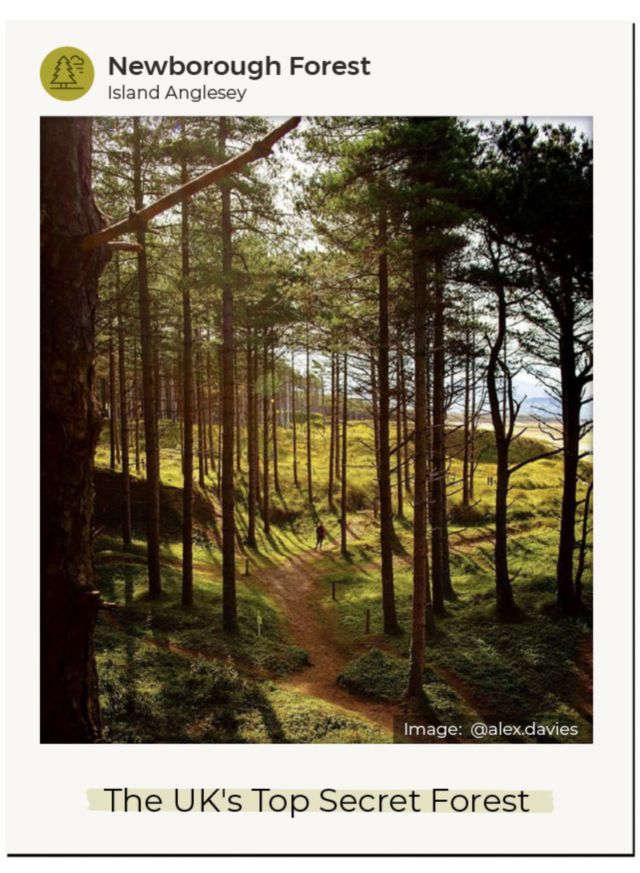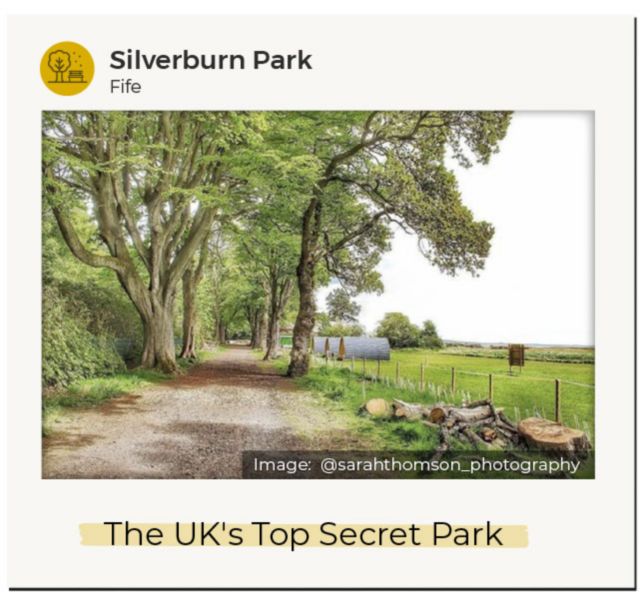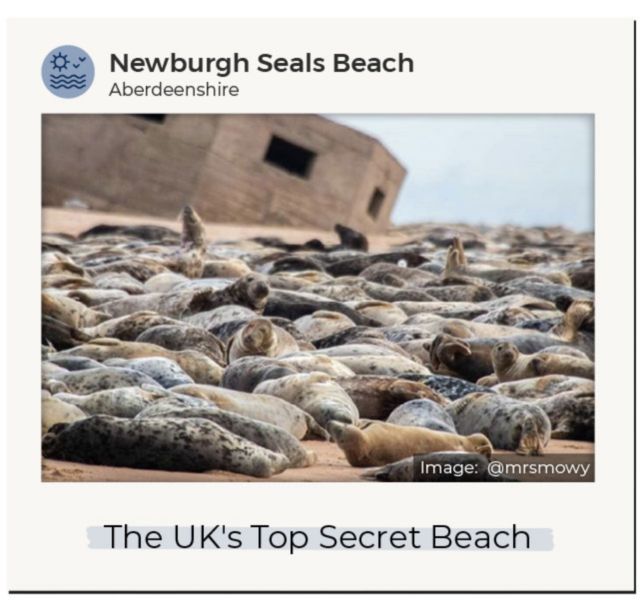 And that concludes our ranking of the top hidden beaches, forests, parks and hiking trails in the UK. We hope we've inspired you to get out there and explore nature. Whether it's a relaxed amble along the beach or an invigorating uphill hike, Clarks have got you covered when it comes to walking boots. From our year-round women's boots and men's boots to our trusty winter boots, we'll keep you toasty and warm on your adventures.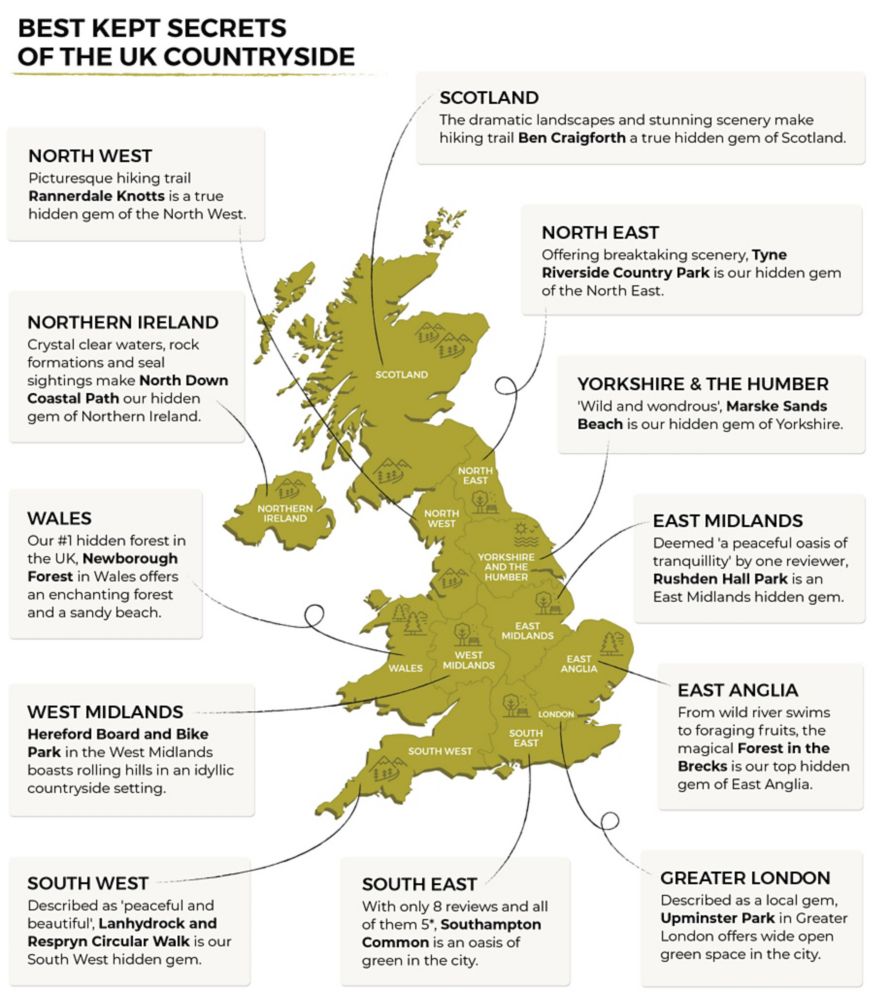 Coronavirus (COVID-19) Guidance
Please enjoy public spaces, such as those listed, responsibly and in line with government rules and advice. Maintain 2m apart from people outside of your household, wash your hands frequently with soap for at least 20 seconds, take hand sanitiser with you and use it before and after touching any surfaces, and wear face coverings over your mouth and nose in enclosed spaces.
Methodology
Clarks gathered TripAdvisor listings that fall into four subcategories (Hiking Trails, Parks, Beaches and Forests) sitting under the 'Nature & Parks' page for each county in the UK, recording the live number of reviews for each listing and the proportion of those that were given 5-star ratings. In order to qualify as a Hidden Gem, a TripAdvisor listing must have between 5% and 40% of the average number of reviews for that category. This is to exclude any outliers and ensure the listings are relative to the offering of attractions in each category.
Listings were then ranked by the highest proportion of 5-star ratings. In the instance where multiple attractions had the same percentage of 5-star ratings, we ranked them by lowest number of reviews first.
This research was conducted between 30/09/2020 and 15/10/2020, with the number of listings and reviews, as well as the review quotes, accurate at the time of research. If you would like to see our sources in full please let us know.
Fair Use
Think your readers might like to hear about this research? Feel free to share the information on your website and please credit with a link back to this page to they can see the research in its entirety.