Your browser is out of date and will not be compatible with our website.
Please download one of the following browsers to be able to easily view our website.
The best boots to wear in autumn
As we transition into autumn, it's time to pack away your summer sandals and welcome back this season's favourite footwear: autumn boots. Stylish, comfortable and practical, boots are the perfect shoe for autumn and winter, and this season it's all about ankle boots, Chelsea boots and knee-high boots. Here we've showcased some of our favourite styles, along with tips on how to wear them.
Ladies' ankle boots
Flat ankle boots
Ankle boots are the perfect transitional style, particularly flat ankle boots, which are extremely versatile and can be worn day-in-day-out - they'll quickly become your trusty favourites. Go for leather ankle boots like the Mila Sky in black or grey snake, or the Demi Beat in black with silver detailing. If suede is more your style then try a pair of our iconic Desert Boots.
Heeled ankle boots
Ideal for autumnal evenings, heeled ankle boots are a sophisticated alternative to heeled sandals when the temperature drops. Go classic and minimal with the Verona Trish in dark tan or black leather, or embrace the biker look with the chunkier Thornby Lace.
How to wear ankle boots
The best thing about ankle boots is they'll go with virtually anything in your wardrobe. Wear them with jeans, dresses or skirts, and with tights or bare legs. This is one item in your winter wardrobe that you're guaranteed to get a lot of wear out of.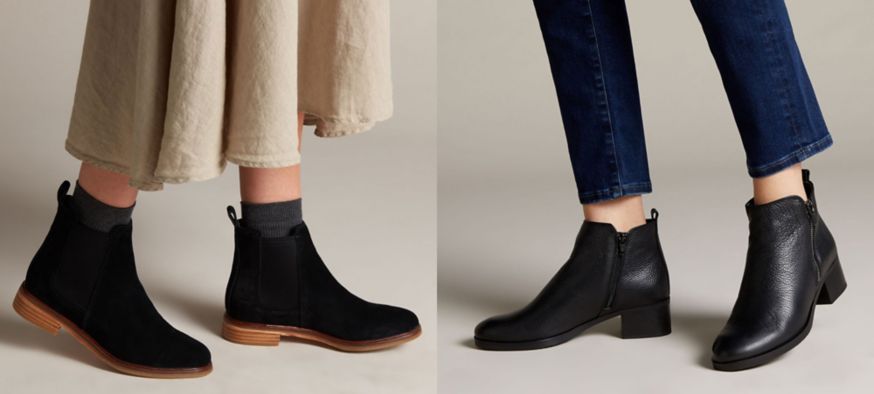 Womens' Chelsea boots
While theoretically a type of ankle boot, Chelsea boots deserve to be called out as a category in their own right. Chelsea boots can be identified by their elastic side panel, and they are typically made from leather, with a rounded toe and a low heel. There are exceptions though, and some of these exceptions should be considered when shopping for autumn boots this season.
Heeled Chelsea boots
Adding a heel to a Chelsea boot elevates it from understated to eye-catching. The Laina 55 Boot, in black suede, grey snake or white leather, have a 5.5cm heel and are the perfect day-to-night boot. For something even higher, try the West Lo with an 8cm heel.
Suede Chelsea boots
If you prefer the more casual look of suede over leather, the Clarkdale Arlo could be your ideal boot for this autumn/winter. It has all the makings of a traditional Chelsea boot, including a heel loop tab for easy on and off, but with a soft black suede upper.
How to wear Chelsea boots
As with other ankle boots, Chelsea boots can be worn with just about anything. If you wear them with trousers, turn up the legs so that they sit just over the top of your boots, as you want the elastic section on display. They can also be worn with culottes and midi skirts, as well as with shorter dresses for the ultimate transitional look.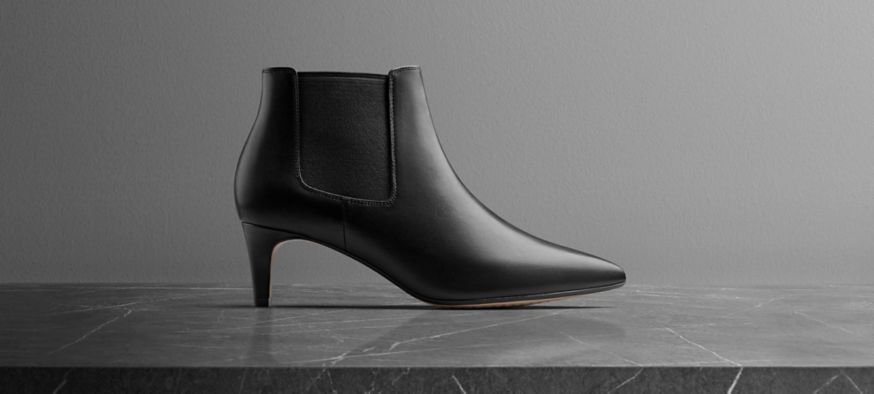 Knee-high boots
Leather knee-high boots
Knee-high boots are making a comeback this year, and what better way to embrace that than with a pair of classic black leather knee-high boots. Thanks to their extra coverage, they're the ideal winter boots and will help to keep you warm when it gets really chilly. Our Pure Caddy knee-highs are crafted from super-soft black leather, with an elasticated back for a comfortable fit around the leg.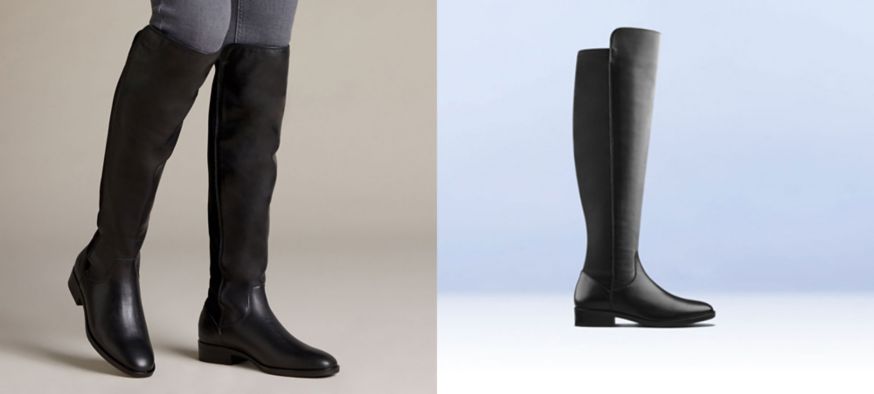 What to wear with knee-high boots
The way to wear knee-high boots this season is with a midi skirt or dress, but they also look great worn with tucked-in trousers or jeans. Black leather knee-high boots will add instant style and sophistication to your outfit, so wear them to work, on the weekend, on nights out and beyond.
So there you have it, everything you need to know to help you decide which boots to buy this autumn. If you're planning on getting outdoors and tackling rougher terrain, read our guide on the best walking boots.