Baby and Toddler Collection
On the move
Comfort for every stage
From crawling and cruising to those first wobbly steps, our shoes are designed to comfort and support every step of your baby's natural walking development.
Experts in
foot development
When your baby's crawling, the bones in their feet are soft, which is why they have a protective layer of fat to cushion the developing bones. Once they're cruising, this protective layer continues to keep the soft bones safe until they fuse together later in childhood. Between formed bones are soft bits that can bend out of shape when walking, meaning expertly fitted shoes with growing room.
What makes our shoes special?
With over 190 years of experience in caring for kids' feet, every part of our shoes has been carefully considered to enable the healthy development of growing feet.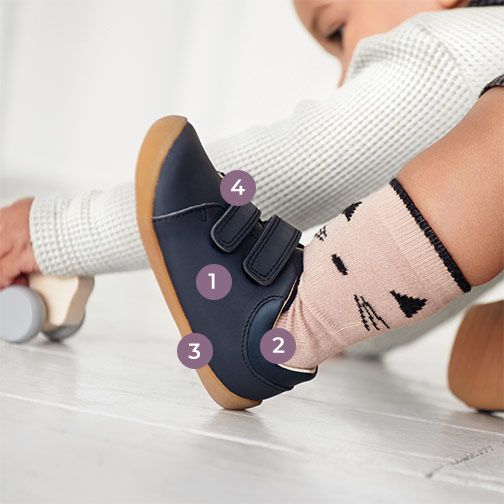 Crawling
To protect and comfort tiny toes on the move. Helping babies conquer the early stages of crawling and bottom-shuffling.
Lightweight and flexible for barefoot freedom
Super soft linings comfort and protect
Textured soles for gentle support
Adjustable straps for a natural fit
Cruising
To encourage first steps with lightweight support. Helping provide stability for early side-steps around the room.
Simple fastenings for easy on/off
Expertly designed for best fit
Subtle grip for wobbly steps
Heel protection for enhanced ankle support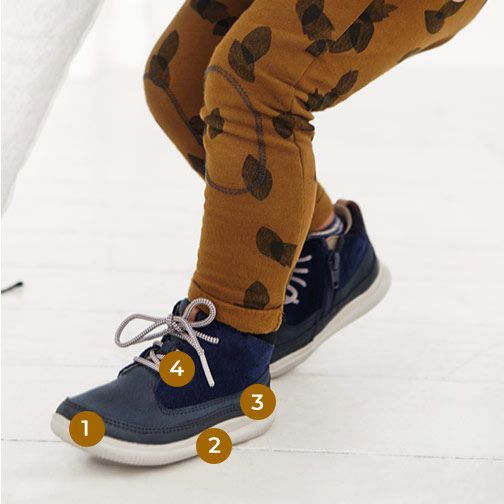 Walking
To enhance the natural walking motion of growing feet. Providing unbeatable comfort every step of the way.
Growing room supports foot development
Extra grip for stable steps
Innovative cushioning for unbeatable comfort
Breathable materials provide all-day freshness
With over 190 years' experience, our collection of baby and toddler shoes guarantee comfort and support to ensure happy and healthy feet from the get go. In whole and half sizes and a choice of width fittings, browse our latest collection and find the answers to your questions around foot development.